Secure photolithography mask data preparation
GOTdiff
---
Being able to compare the received layout with the reference design is a critical step in photolithography mask generation. Unfortunately, until now, this is achieved by XORing the files, a time consuming operation which requires access to both files.
As exchanges of layout descriptions between teams involved in modern integrated circuit (IC) development and production increase in terms of rate, value, and size, it becomes critical to implement a secure, reliable, and efficient information exchange flow between collaborating companies and teams.
Layout database comparator
Security and traceability in photolithography mask generation
Geometry-based signature
Ultra-fast signature comparison
Intellectual property protection
High performance XOR
Parallelism computation for unsurpassed performance
Client/server mode for GUI customization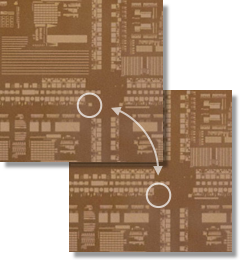 Geometry-based signature
Based on XYALIS' patent, GOTdiff captures the geometry of each layer in the design to generate a unique geometry-based signature file, independent of the layout file format and/or design description strategy.
Signature-based comparison
GOTdiff quickly compares the signatures of 2 layout files. Either by re-using an already computed signature, or by generating it from the layout database. An optional detailed XOR is performed only on the windows showing differences in case of mismatch between signatures.
Intellectual property protection
By limiting the transfer to a geometry-based signature file instead of the full reference design, reduces the risk of unnecessary intellectual property dissemination.  
High performance XOR
GOTdiff benefits from the advanced GDSII & OASIS ® TOOL (GOT) data representation engine developed by XYALIS in order to XOR the largest layout files in a minimum computing time with minimum disk and memory requirements.
GOTdiff directly works on compressed GDSII and OASIS ® files to further improve speed and memory consumption.
Layout integrity control for photolithography masks
Layout file integrity can be easily validated by comparing the database with a signature file sent separately. This can be done even if the database has been converted into a different format or simply read/rewritten by any CAD tool.
For a simple Go/No Go comparison, it is useless to retrieve the original database: only the small signature file is required.
Error file generation
GOTdiff generates GDSII or OASIS ® layout files of the differences identified by the XOR operation. Differences can also be saved in a DRC-compliant error file.
Heavy parallelism computation for unsurpassed performance
In order to reduce photolithography mask data preparation cycle time, GOTdiff optimizes the size of the computation window to maximize parallel distribution across processors.
Client / server mode
GOTdiff includes a distant access mechanism based on HTTP sockets, which allows for client/server access from any web interface. This mechanism can also be used to develop a custom graphical user interface.
Read more in the Tech Design Forum article.
---
Benefits
GOTdiff is dedicated to layout database comparison and security
Layout integrity control
Intellectual property protection
Speed up layouts comparison
Speed up new standards migration
Features
Geometry-based signature
Ultra-fast signature comparison
Intellectual property protection
High performance XOR
Parallelism for unsurpassed performance
Client/server mode for GUI customization
File control