Multi Project Wafer editor
GOTmuch
---
The cost of a complete mask set has dramatically increased and now represents a significant part of the overall project cost. Thus, it is critical for design teams, mask data preparation teams, and mask shops to implement a robust and repeatable Mask Data Preparation flow. This flow for multi project wafer must increase the productivity of the mask set creation and remove any risk of error.

Multi Chip assemblies, also known as Multi Project Wafer, Shuttles, or Pizza Masks, are becoming more prevalent in order to share mask costs between projects. They are now used for manufacturing test chips, prototypes and low production chips.
Multi Project Wafer challenges
Multi Project Wafer induce specific challenges to the mask data preparation team:
A chip assembly step is necessary, which maximizes the number of chips placed into the reticule. This step minimizes the number of wafers necessary to deliver all chips.
Customer projects must be synchronized. Whether chips are coming from external customers or internal teams, mask data preparation teams must face last minute project changes. They must make sure that every chip layout is manufacturable.
Huge heterogeneous layout databases from different providers must be assembled. In other words, all database consistency issues must be addressed before tape-out.
Often these operations are handled manually. It's a lengthy and error prone process at a stage where errors can be very costly.
GOTmuch benefits
GOTmuch is a powerful and fully automated workbench for creating multi-chip assemblies. It increases productivity, maximizes the yield, and eliminates the risk of error. It combines an easy to use graphical editor whit powerful engines that automate all steps required for multi-chip assembly:
A powerful production aware placement engine provides an optimum chip placement which minimizes production costs according to user specific needs
A design database analyzer combined with an assembly rule checker warrants that the multi-chip assembly is free from error and can be manufacture.
A metal fill engine inserts "dummy tiles" into empty areas of the assembly. Firstly, this engine helps to flatten the surface of each metal layer before CMP. Secondly, it increases manufacturing yield, for instance.
The final layout database is constructed to avoid consistency problems. The generated user documentation can be customized for the design and manufacturing teams.
GOTmuch creates fully verified manufacturable multi-chip assemblies and associated user documentation in a matter of hours. It allows the automation of multi-chip assembly creation process, by providing a large set of commands for scripting.
GOTmuch includes a TCL and Python interpreters environment. And therefore you can access any database through SQL functions.
GOTmuch is fully integrated in XYALIS Mask Data Preparation solution. It handles standard layout and job deck formats: GDSII, OASIS ®, MEBES. It also exports data in Maly format (Semi P45). Each module can run through the common graphical user interface, or on the command line for automatic processing and easy inclusion in an existing flow.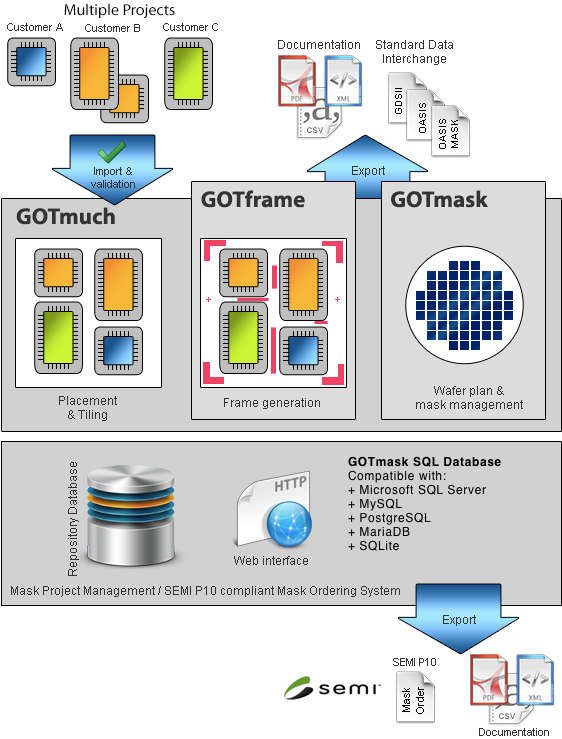 ---
Benefits
GOTmuch has been developed to automate the entire MPW management flow:
Minimize production costs: maximize numbers of chips produced in the assembly and minimize number of wafers necessary to deliver all chips to customers.
Increase mask data preparation productivity: a complex chip assembly is performed in a matter of hours and repetitive tasks, such as database consistency checking and user documentation generation are done in seconds.
Avoid costly errors: full flow automation and automated checks at every step of the flow ensure data correctness and manufacturability.
Increase factory yield: metal fill at reticule level flattens the surface before CMP.
Features
A full range of features make GOTmuch best in brand tool in the MDP field:
Production aware placement
Mask manufacturability verification
Automatic metal fill
Intuitive graphical environment
Error free final layout database merging
Integrated in XYALIS Mask Data Preparation solution
Scripting capabilities in embedded TCL and Python interpreters environment